(Last Updated On: October 3, 2022)
It's not a secret that CoinRabbit has great friends and supporters in the face of DigiByte and its community. We all love DGB for its key features (such as decentralization, speed, and trustworthiness), but who said that implementing something new like their own Metaverse will change things? DigiByte has been available as a collateral option on CoinRabbit for quite a long time right now and given the fact that we have a great partnership, we are totally ready to support DGB in the creation of their new project and establish a closer connection between our services! We're burning from impatience to see DigiMetaverse in full operation and we will now tell you why exactly.
Table of contents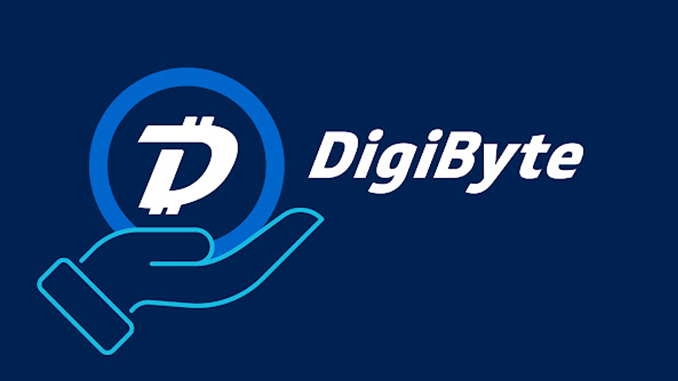 What is DigiByte?
First of all, we should talk about DigiByte itself and the features that make this asset stand out from all the rest.
DigiByte is a rapidly growing open-source blockchain created in late 2013 and released in early 2014. The project focuses on cybersecurity and scalability in order to compete with coins like XRP or Litecoin. The maximum supply of DGB token is limited to 21 billion and at the moment of writing this article the circulating supply is ​​15 017 668 391 DGB tokens.
DigiByte was created by Jared Tate who is still engaged in the project. It all started with mining the genesis block in 2014 as a fork of Bitcoin. DigiByte uses 5 different algorithms to improve security and consists of three layers: a smart contract "App Store," a public ledger, and the core protocol featuring nodes communicating to relay transactions. The project was originally aimed to improve the Bitcoin blockchain's security, capacity, and transaction speed.
DigiByte key features
Right now we will enlist a number of DigiByte most important benefits that make the DGB token one of the best crypto projects on the market:
DigiByte focuses on decentralization and security. It is a really fast blockchain that can solve issues in peer-to-peer commerce as well as secure dApps (decentralized apps) and prevent cyberattacks.
DigiByte is a fee-free token. Due to this fact, all transactions are super fast and any user who wants to send DBG to a legitimate address won't pay a single penny.
More about security: it is amplified by MultiAlgo software. Thanks to this cooperation DigiByte is able to prevent 51% of cyberattacks. This is definitely more secure than any coin which has a single-algorithm way of operating.
As it was already mentioned, DigiByte is really fast in transactions. More than that, DigiByte is also one of the fastest blockchains among all existing. Its block time has been reduced from 30 to 15 seconds, which allows a greater number of transactions per second, and also blocks are added more frequently.
DigiByte is a community-driven coin. This is one of the most important parts from perspective of DGB team since they believe that only the community can decide what is better for them, not companies. DGB was never funded by an initial coin offering (ICO), or any amount of pre-mined coins. Besides, it doesn't have a parent company. The best part is that DigiByte is a community-driven token, and the community is just breathtaking!
Generally speaking, people enjoy DGB for its willingness to create a decent alternative to major cryptocurrencies while issuing assets and implementing smart contracting.
These above-stated benefits were not the ultimate list of DigiByte pros that it offers its existing and potential users. However, the project never stops creating new solutions for its clients and this is how DGMV (DigiMetaverse) was born.
DigiMetaverse: A Whole New World
What is a Metaverse?
Let's say you never heard of Metaverse before clicking on this article. A lot of companies (including Facebook, sorry, Meta) are working on their own Metaverse projects, including Nvidia, Unity, Roblox, and others.
There is no generally accepted definition for the term "Metaverse". Basically, it is the unity of many virtual worlds that continue to co-exist even when you are offline, plus augmented reality, which has traits of both digital and physical worlds.
Let's talk about DGMV!
Here is what DigiByte itself states about their new project: ​​"Delivering the DigiMetaverse: our blueprint to the inherently secure, people-centric, value creation-focused web of tomorrow".
This project aims to create an open and transparent ecosystem strengthened with the utility token $DGMV. The DigiMetaverse will help investors, enterprises, communities, individuals, and brands to deliver value and find like-minded business experts and partners as well as unlock business value for everyone and everywhere in the world.
What is included in DGMV?
The DigiMetaverse Non-Custodial Wallet and Self-Sovereign Identity – the Self-Sovereign Identity (SID) allows to store, manage, and control digital assets, including crypto, NFTs, personal data of all forms and formats. Besides, it also helps all users to protect their identities online.
DigiThree: Quantum-Secure Decentralized Enterprise Solutions – DigiMetaverse products and services can be purchased either by subscription or on a pay-for-use model. All in all, DigiThree delivers quantum-secure blockchain solutions to enterprises and offers practical applications of blockchain and decentralized technologies for real-world business requirements. For instance, Video Conferencing, Secure File Management and Storage Services, Business-Secure Web Browsing.
Secure P2P Video Conferencing – this so to call it "element" is said to deliver ultra-scalable, peer-to-peer, 100% private video communication that is robust and reliable.
Quantum-Secure Storage and Solutions – simple enterprise and user-level storage and file sharing and monitored and defended log file storage and archives. They are said to be sustainable and easy-to-integrate solutions to facilitate user experience.
Secure Browsing – high-speed encryption and threat-resistant web browsing.
DigiLife: Secure Consumer and Brand-focused Ecosystem – nowadays the NFT market is relatively small and very much focused on art, thus DigiLife is creating value propositions for businesses, brands, and consumers with a broad set of alternative use cases for Non-Fungible Tokens.
Metaverse Non-Custodial Wallet – the Metaverse wallet provides integration and access to Metaverse applications, services, and solutions.
DigiWare and DigiAcademy: Community-Enabled Expansion – DigiWare provides DigiByte technological integration and facilitation with all DigiCorp services. Any business is welcomed into this technological resource in order to progress their own blockchain ambitions. DigiAcademy will include an online training platform, blockchain, and digital assets targeted to attract developers to the technology as well as live-streamed classes, industry-leading content, tutoring for students, and opportunities to collaborate on blockchain projects.
Sounds fascinating, doesn't it?
The project was started in 2020 and at the moment of writing this article at the beginning of 2022, it has gone through multiple alpha and beta tests. In the upcoming months and even years, a lot of changes and improvements are to be seen. We're keen to support DigiByte on its way to becoming one of the greatest crypto projects!
On our part, CoinRabbit really enjoys the potential of DGMV. Especially since the number of hacker attacks is growing every day, people need a safe place to conduct their business and a safe place in the crypto sphere in general. Besides, numerous new opportunities will open in front of DigiByte users! We recommend keeping at least one eye on DGMV since these guys have proven multiple times to be experts in both crypto and IT spheres, which is why we are sure that their new project will be a total success.
Who knows, maybe CoinRabbit will be lucky enough to connect with the DigiByte team on this basis. What do you think CoinRabbit can come in handy with? What kind of cooperation would you like to see between DigiMetaverse and CoinRabbit? Maybe implementing $DGMV as our collateral option? Feel free to contact us anywhere and write your thoughts on DGMV x CoinRabbit!
Final Thoughts
All in all, we looked a bit into the DigiMetaverse concept, structure, and potential. This truly is a milestone for the company itself and for its users. If you want to know more about DigiMetaverse, click on "Explore Now". To our DGB friends, we wish all the luck and prosperity to their project!