(Last Updated On: April 13, 2023)
Are you on the lookout for a new cryptocurrency to invest in? Look no further than Volt Inu V2! This up-and-coming coin has been gaining traction in the crypto world, and for good reason. But what exactly is Volt Inu V2? And does it hold any value or use cases beyond just being another digital currency? Keep reading to find out everything you need to know about Volt Inu V2 and why you should consider adding it to your portfolio.
What is Volt Inu V2?
Volt Inu V2 is a relatively new cryptocurrency that was created in response to the growing demand for decentralized finance (DeFi) platforms. The token operates on both Ethereum and Binance blockchain.
One of the unique features of Volt Inu V2 is its deflationary model, which means that over time, the supply of coins will decrease while their value increases. This mechanism helps to combat inflation and ensures that investors who hold onto their coins will see greater returns in the long run.
Another important aspect of Volt Inu V2 is its community-driven approach. Unlike traditional cryptocurrencies that are controlled by a central authority, Volt Inu V2 relies on input from its users to determine how it should evolve over time. This creates an ecosystem in which everyone has a stake in the success of the platform.
Volt Inu V2 represents an exciting opportunity for those looking to get involved with DeFi and invest in a promising digital currency with strong growth potential.
Does VOLT have value?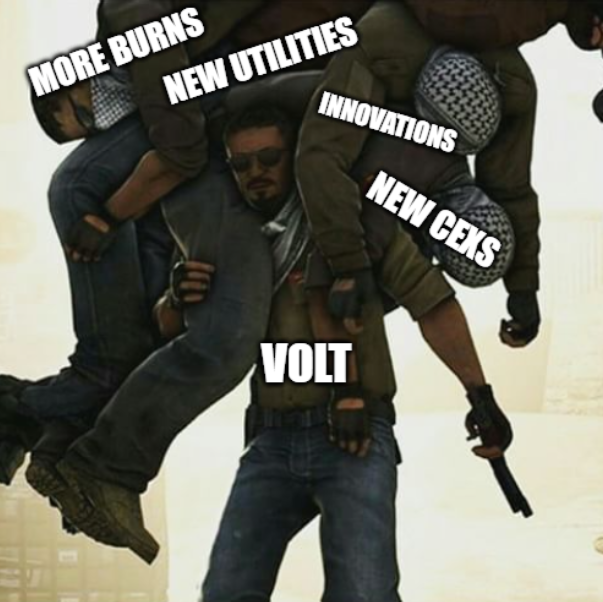 The value of VOLT Inu coin is a topic that has been discussed among cryptocurrency enthusiasts. The answer to this question depends on various factors such as market demand, adoption rate, and utility.
VOLT is a highly traded asset that holds much value. It has three main aspects which contribute to this worth, beginning with its state-of-the-art deflationary mechanism which guarantees the coin will increase in rarity over time. Then there's VOLT's developing network of developers and investors who are heavily vested in the cryptocurrency and make use of it regularly; and finally, the growing list of products and use cases that support its value. All these components together make VOLT an attractive investment option.
While nothing is guaranteed in the world of cryptocurrencies and investors should do their own research before investing – there are indications that suggest VOLT Inu coin could potentially have significant value in the future if they achieve their goals through successful implementation of their roadmap objectives.
Volt Inu coin use cases
Volt Inu V2 is a new cryptocurrency that has been gaining popularity in the crypto space. But what makes it unique from other digital assets? One of the main reasons why Volt Inu has been making waves is its use cases.
VoltiChange – is DEX by Volt Inu that automatically listing and making any Uniswap or Pancakeswap projects deflationary for free.
VoltiGames – includes a P2E racing game and offers rewards plus buy-back & burns, all integrated with NFT'S by Volt Inu.
VDSC – is NFT collection created by Volt Inu that will give you access to gaming integrations and exclusive rights and revenues.
VoltiFlex – we don't really know what it will be, but it will be something very volted (there is no doubt) and it will be launched sometime in 2023.
Payment method – Volt Inu can be used as a medium of exchange for buying goods and services online. It offers fast and secure transactions without the need for intermediaries such as banks or payment processors.
Volt Inu loans – Volt Inu can also be used as collateral in lending platforms where users borrow funds by putting up their crypto holdings as security. In such case, you don't need to sell your VOLT if you need money immediately, you just can take a loan against them and continue holding your assets.
What are the benefits of taking out a VOLT Inu loan?
In addition to increasing liquidity, optimizing capital utilization, and diversifying your portfolio more effectively with crypto loans, you can access funds without selling. Furthermore, crypto loans usually have lower interest rates than traditional loans, so borrowers can get funds much cheaper. In addition, crypto collateral is stored in a cold storage wallet securely, providing additional peace of mind.
Here are some cases where you can use VOLT as a collateral and get profit:
Profit from volatility – CoinRabbit loans remain fixed no matter the exchange rate of the collateral currency. An example will help to explain this concept. Suppose you received a loan with 90% Loan-to-value-ratio against 10,000,000,000 VOLT when it was valued at $0.00000065 (approx. $6,500). You were then provided with 90% of your collateral; in this case $5,850. To receive your Volt Inu collateral back, you must repay that exact amount – regardless if VOLT rises to $0.000001279 or higher. Technically speaking, when repaying the loan at that point, you'd be getting back a total of $12,880 instead of the original $6,500! Crypto loans allow users to leverage their assets and potentially gain profit simultaneously – making them incredibly advantageous.
Make a huge purchase and continue holding –The crypto loan allows you to enjoy the value of the invested fiat money while inflation permanently decreases it. Today the same amount values more than tomorrow. When you take out a crypto loan against VOLT, you keep all your VOLT assets, but gain extra funds to spend today, since we all know tomorrow will be more expensive.
Tax optimization – Some countries require you to pay up to 40% on your crypto investment profits. There is no direct profit in a loan transaction. So you can take a loan and maximize your tax efficiency without worrying about taxes.
Technique for managing risks – Rather than holding VOLT tokens and risking the unpredictable fluctuations of the crypto markets, crypto investors now have the opportunity to utilise their investments as collateral for a VOLT loan. They can access funds while their assets remain secure, allowing them to manage their risks. In this way, they can benefit from the lower interest rates of crypto loans while protecting themselves from potential losses from market volatility at the same time.
Is there a way to work with VOLT volatility to avoid liquidation?
VOLT crypto volatility can result in liquidation. When you use your VOLT to take a loan, it is important to monitor the status of your loan. CoinRabbit offers an instant alert system, which uses SMS and e-mail to inform users when there is a potential liquidation.


You can always add more collateral to adjust the Liquidation price of your loan. Loan collateral at CoinRabbit isn't frozen; therefore, liquidation prices are adjusted immediately by adding more collateral or repaying your loan.
Aside from that, you can decrease the LTV at any time while the loan is open by adding more collateral. For example, CoinRabbit's minimum loan LTV is 50%. CoinRabbit allows you to increase collateral immediately after opening a loan, so the LTV will decrease at a rate that suits you.

How to get a VOLT loan in 4 steps
The application process for a VOLT crypto loan has been significantly simplified thanks to crypto loan platforms like CoinRabbit.
Choose VOLT crypto as your preferred collateral on the homepage, under the Loan calculator section.
By entering the amount of Volt Inu crypto you want to deposit as collateral, the Calculator will show you the Loan Amounts you will receive, and click "Get Loan."
We will ask you to confirm the details, enter your stablecoin address, and verify your email address after clicking "Get Loan"
Next, send VOLT to the displayed address. After we receive your collateral, the loan will be sent to you immediately.
Conclusion
VOLT crypto loans with CoinRabbit – is a great tool for crypto investors and holders: you can use a crypto loan to optimize your taxes, make a huge purchase, reinvest in new cryptocurrencies and many more while continuing holding your digital assets.
It's important to remember that all operations with crypto are highly risky. When you get a loan with any crypto lending platform – don't forget to check the status of your crypto loan periodically and add collateral if it's needed to avoid liquidation of the loan.